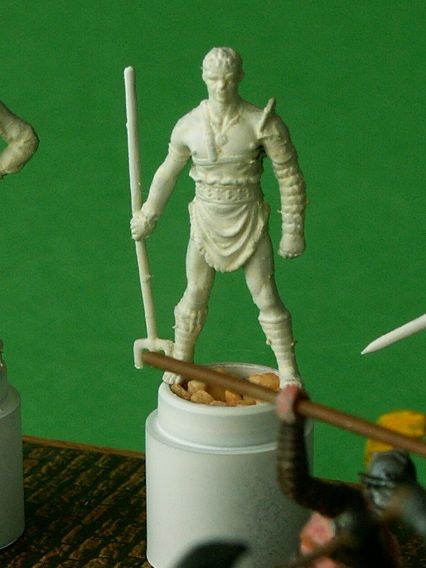 Hi friends,
Today, There is a letter from Burak Çınar. Gladiators rebelled. Beautiful and interesting scenery. This is not miniafv but 1/72 scale and a lovely vignette .. We must share ..
Enjoy..
.
Erhan...
_________________________________________________________________________________
Gladiator Mutiny
Rome was the pupil civilization in the Antiquity. One strange event in Roman history was servile wars, in which slaves had mutinied for three times. The Third Servile War (73-71BC) had been started with a gladiator mutiny, led by a few men; best known among was Spartacus.
Gladiators were slave-warriors among captives from conquests or anti-piracy and those were held in gladiator schools for bloody, deadly enthusiast. Their crucial life made them able, strong and furious warriors. Individually, they were best warriors in the republic; however they were not efficient in a long war, lacking of military training. Spartacus rebellion had been effective, but dispersed in two years.
This vignette was originated by imagination of the first hours of Spartacus rebellion in front of Batiatus School. I have used selected figures from Italeri's two sets: 6021 Roman Infantry and 6062 Gladiators. Italeri's 6021 is the best set to suit the 1st Century BC Roman infantry with good-detailed figures. Gladiators is the best set having high quality figures among 1/72 vinyl sets that I see.
The composition is basically gladiator breakout in the court of the school, which has marble statues of former champions. Three reckless gladiators with courage are engaging a Roman squad in-line. Each side has a black one and others are from different races, painted with Vallejo's face set. Statues were painted with oil in white mixed with little yellow. Each were mounted on Kibri's HO bridge trestle for train dioramas, and filled in orange, fine flower gravel. Base is Faller's HO pavement.
Happy modelling,
Burak Çınar