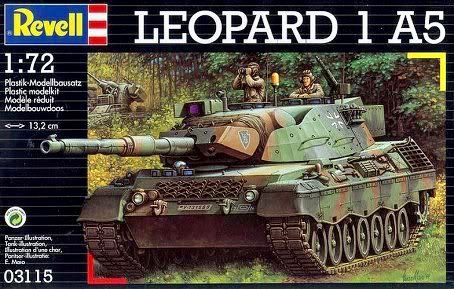 Hi dear friends, Murad page prepared today , very nice job and presentation, thank you Murad...
Enjoy..
.
Erhan...
************************************
Greetings fellow Braille Scale modellers,
Despite it's moulds dating back 1999, the kit is a rather good model from Revell. Altho there are some shortcomings with the instruction manual, accuracy / realism, fit of a couple of very visible parts and a none elevating gun barrel, all things considered the kit was a joy to build and turned out a good looker, even in this green color!
Basecolor is Vallejo Model Color 70.887 - 093 / Brown Violet. Knowing Vallejo paints i expected the color would eventually transform into a tone similar to these here:
http://www.primeportal.net/tanks/ulrich_wrede/leopard_1a4/
after several coats of varnish and weathering. The color did shift significantly as expected, however it still isn't what i had in mind which was more towards the color on the rain cover on top of the faceplate (RAL 6014 to be exact) instead of this yet another boring green army vehicle paint.

On with the pictures - Since the turret's going to receive side armor later on i had to prime and paint it beforehand. I bored out the muzzle as well: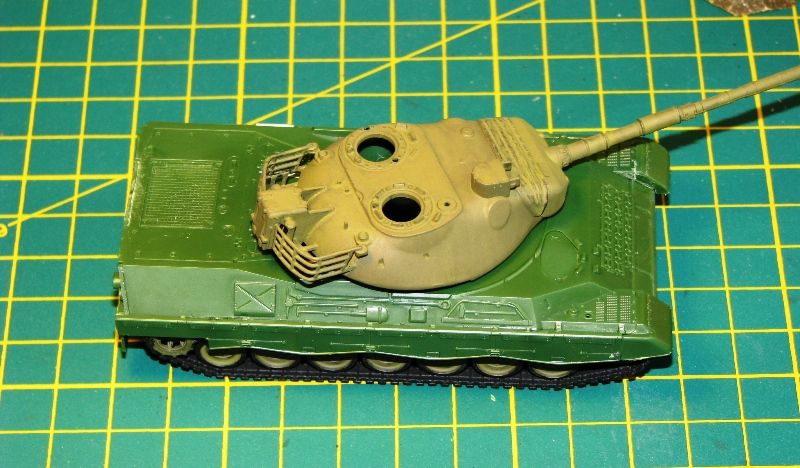 Turret side armor attached and the rest of the tank received it's primer (vallejo black primer) and the very first layer of basecoat, of many layers to come!
Almost everything is assembled and the basecolor has received several more layers in the meantime, morning shots outdoors:
Time to paint the details - Due to accessories on the sides being part of the mould itself, highlighting them later on would be a very hard affair for my skill level so i went the opposite way and preshaded them as precisely as i could with a very bright green (according to the reference pictures found on the operational vehicles most of these tools are NOT all shiny metal nor have handles in bare wood color!) then painted over with a very thin base color to hide the paint spills while filtering the bright green tone in the meantime: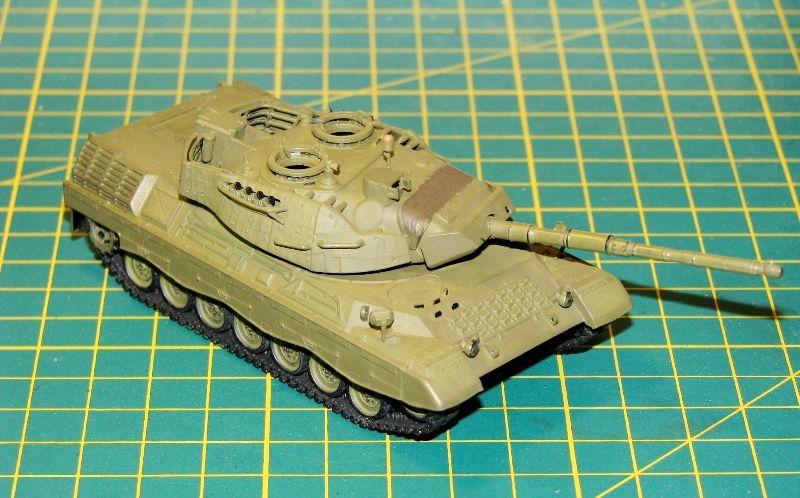 Progress with the details like the lights etc. and outdoor shots in the morning daylight once again. Since detailed hatches were provided, i decided to leave the loader's hatch not battened, if i can find a modern tanker figure in 1/72 i'll stick him in there next. Canvas color for the main gun mantlet is Vallejo US Olive Drab. Notice how tricky the basecolor has actually became depending on the angle of daylight: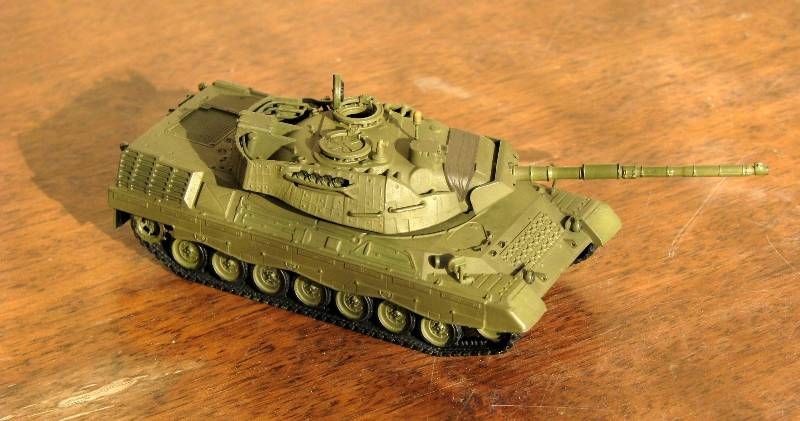 Decals fixed via MicroSol in between 2 layers of spray gloss varnish, notice how much the tone has shifted in basecolor: