Hello there,
Today we met with Armata..
Inbox preview by me, construction photos from Burak Özdil ..
Erhan & Burak...
A short description about Armata...
The T-14 Armata (Т-14 «Армата»; industrial designation "Object 148") is a new Russian main battle tank based on the Armata Universal Combat Platform. It was first seen in public (initially with its turret and cannon shrouded) during rehearsals for the 2015 Moscow Victory Day Parade . The Russian army plans to acquire 2,300 T-14s in the period 2015-2020
Specifications
Weight

more than 50 t

49 t (with Urban Warfare Package)
Length
10.8 m (35 ft)
Width
3.5 m (11 ft)
Height
3.3 m (10 ft)
Crew
3

---

Armor

44S-sv-Sh

1,000–1,100 mm vs APFSDS and 1,200–1,400 mm vs HEAT

Main
armament

125 mm (4.92 in) smoothbore 2A82-1M tank cannon with 45 rounds (32 of them in the autoloader)

Secondary
armament

12.7 mm (0.50 in) Kord machine gun (6P49), 7.62 mm (0.30 in) PKTM machine gun (6P7К)
Engine
diesel
1,500 hp–2,000 hp
Power/weight
31hp/t
Transmission
12-speed automatic gearbox

Operational
range

min 500 kilometres (310 mi)
Speed
90 km/h (56 mph)
Armata - T-90 duo..dimensions are very different..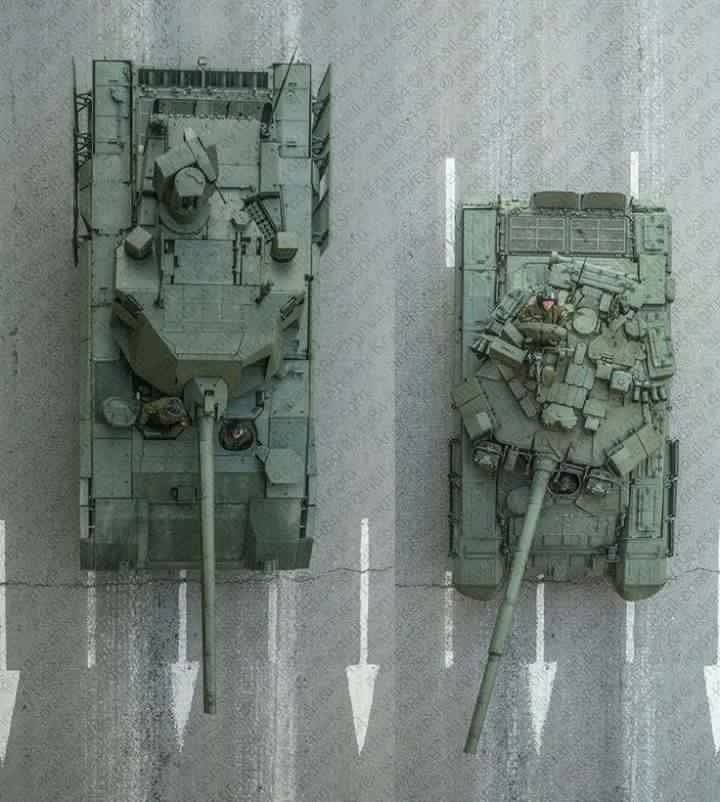 metal body...
and lots of plastic parts.. high quality.
metal barrel and detailed decal sheet
PE parts ... terrifying ...:)) Especially slat armor ..
Burak build slat armor.. CA - patience - focus trio :)
a picture from completed model :
turret need some putty..
painting time..
Good job Burak.. (to be continued with completed model)
here is the completed model
:http://miniafv....russian-t-14-armata.html