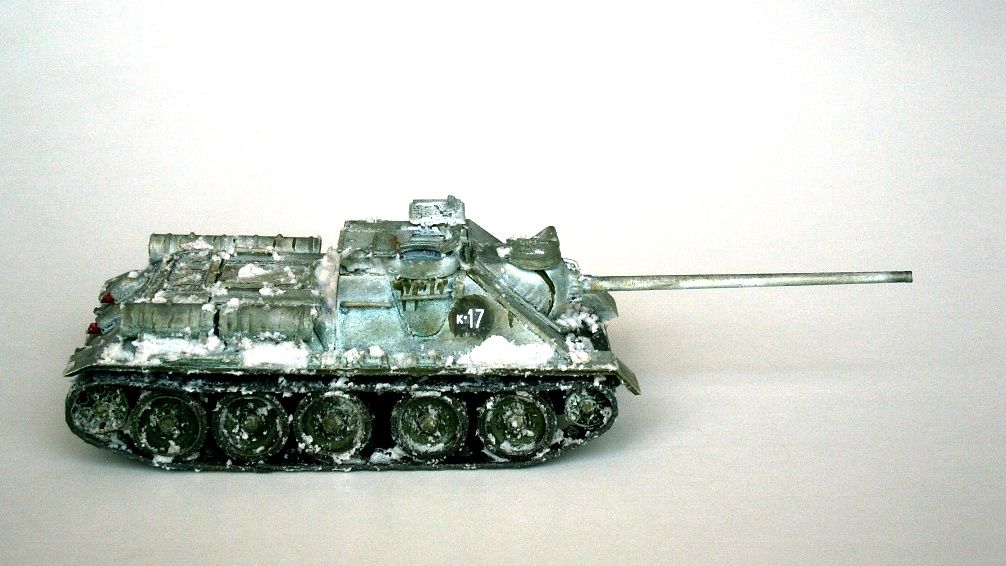 Hello dear modeler,
Su-100 is a Soviet self-propelled anti-tank gun, based on the T-34 chasis, replaced the inferior Su-85. Its gun, 100mm D-10S was very powerful which was able to penetrate Panther's front armor from 1500 meters. Massive using in Hungary, in 1945, it was a very late weapon in the Second World War; however, over 2000 were produced by the end of the war. Su-100 had postwar experiences as used in the wars in the Middle East and Africa.
Dragon's Su-100 is a clear kit with PE parts, and an SP model which was rare in the Braille scale. I have no serious problem while assembling but losing very small and curved twin parts which was not perceptible when finished. Snow camouflage, which I preferred, is appropriate to Soviet assault guns. White scheme was painted over dark green, so I have sprayed primer dark green, then I mopped up with white. After placed the decals; I have used oil paints as washing and mopping up with drybrush using white, yellow, green, gray and black.
Happy numerous braille models!
Burak Çınar...
thank you for sharing Burak..
Erhan..