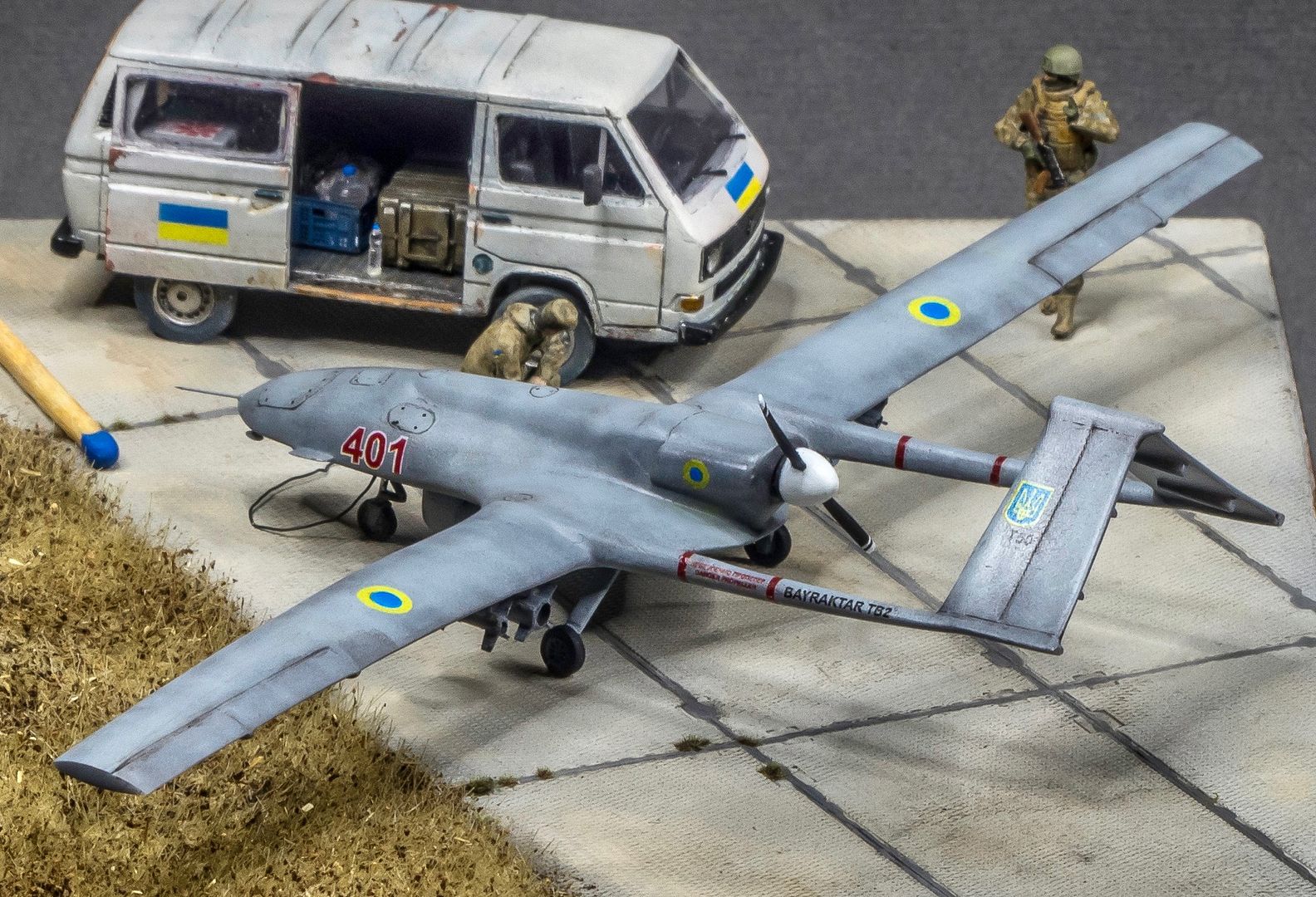 Hello dear modeller,
Today, I am sharing the Turkish UAV Bayraktar TB2 model. There is no 1/72 scale plastic kit yet, but 3D prints are available.
Our modeler friend Zbigniew Perski (from Poland) completed this model. Bayraktar is used by the Ukrainian army in the Ukraine-Russia war, and the beloved Zbigniew completed the model as a Ukrainian aircraft.
Bayraktar TB2 model based on 3D printing design, (by Vahagn Harutyunyan). VW T3 van from PJProduction, Airport license plates from ICM, , figures are Preiser + 3D printing..
Very nice vignette, thank you for sharing dear Zbigniew and welcome to "miniafv"…
Erhan..
The Bayraktar TB2 is a Tactical Armed / UAV System, developed and manufactured by Baykar. A highly sophisticated design that provides all solutions that operator may need in one integrated system. The system consists of Bayraktar TB2 Armed / UAV Platform, Ground Control Station, Ground Data Terminal, Remote Display Terminal, Advanced Base with Generator and Trailer modules. Thanks to Baykar's technological accumulation and capabilities, the entire system is produced indigenously.
Bayraktar TB2 is a Medium Altitude Long Endurance (MALE), Tactical Unmanned Aerial Vehicle capable of conducting Intelligence, Surveillance and Reconnaissance (ISR) and armed attack missions. An onboard avionic suite with a triple redundant avionic system encompasses units enabling a fully autonomous taxiing, take-off, landing and cruise. TB2 has proven its efficacy with over 400.000 of operational flight hours. Since 2014, it keeps carrying out missions successfully within the Turkish Armed Forces, Gendarmerie and the Turkish National Police. Currently, 257 Bayraktar platforms are at the service of Turkey, Qatar, Ukraine and Azerbaijan. Bayraktar TB2 holds the record in the Turkish aviation history for endurance (with 27 hours 3 minutes) and for altitude (with 25.030 feet). Bayraktar TB2 is also the first-ever aircraft in its category to be exported abroad.