Hello dear friends,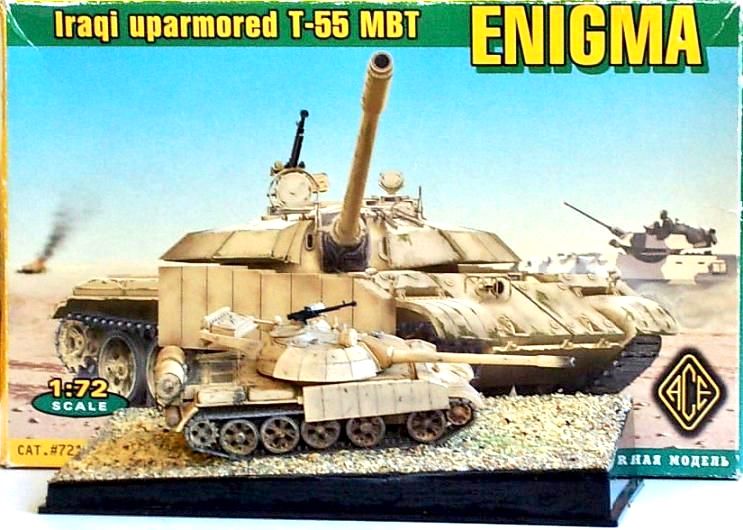 My Enigma.. ACE Model...

I think Enigma is the sexiest version of the T-55 tank. A little below is encyclopedic information about the T-55 Enigma tank.(
Enigma photos
)
There are two options for making 1/72 scale T-55. (for today) Option one is to get the Ace Model's kit (now out of production) and the second option is to combine a T-55 kit with Blackdog Enigma resin parts.
I did the first option. If you're curious about the result, click here :http://miniafv...enigma-by-erhan.html
Burak Özdil used the second option. Blackdog aftermarket parts with Trumpeter T-55 kit.. I think the result is great, a masterpiece..Congratulations my friend…
Erhan...
The "T-55 Enigma" (or Enigma, for short) is the unofficial name for an upgrade standard applied to a few Iraqi T-55s. According to some Iraqis, the official name was "Al Faw". As the western name suggests, very little is known about the T-55 Enigma aside from what can be ascertained from models captured during the First Gulf War (1990-1991) by Coalition forces. In short, the upgrade concerned giving the vehicle a huge amount of crude, but effective, composite armor. However, Enigmas suffered from one major flaw – being based on an outdated chassis. As a result, in their short combat history, Enigmas were simply no match for Coalition forces, even if the vehicles could (sometimes) resist AT missile strikes. It is estimated that no more than eight (but no fewer than five) Enigmas ever existed (based on photographs), with at least four (possibly five) on display in museums today.
The Enigma appears to be little more than a T-55 with a crude armor upgrade. Essentially, large armor boxes have been fitted to the turret and front and sides of the hull. These are held in place mostly by bolts and brackets. These armor boxes are composite armor – inside the steel boxes are four plates of steel and rubber which are spaced apart by a few centimeters, although at least two captured Engimas did not use rubber sheeting.
It seems likely that the idea was to try to create an armor upgrade that can resist HEAT shells (High Explosive Anti Tank) and ATGMs (Anti-Tank Guided Missiles). This was no doubt a lesson hard learned in the Iran-Iraq War (1980-1988), in which both sides used missiles such as the BGM-71 TOW, AGM 65 Maverick, and similar missiles in an anti-tank role to devastating effect. Post-capture testing by Coalition forces has also proven that the armor is resistant to HESH (High Explosive Squash Head) shells.
(From, https://tanks-encyclopedia.com/..)
construction stages..
First the wheels were cleaned..
Blackdog Resin turret was used. Commander exit hatch replaced with Revell part.
completed model..