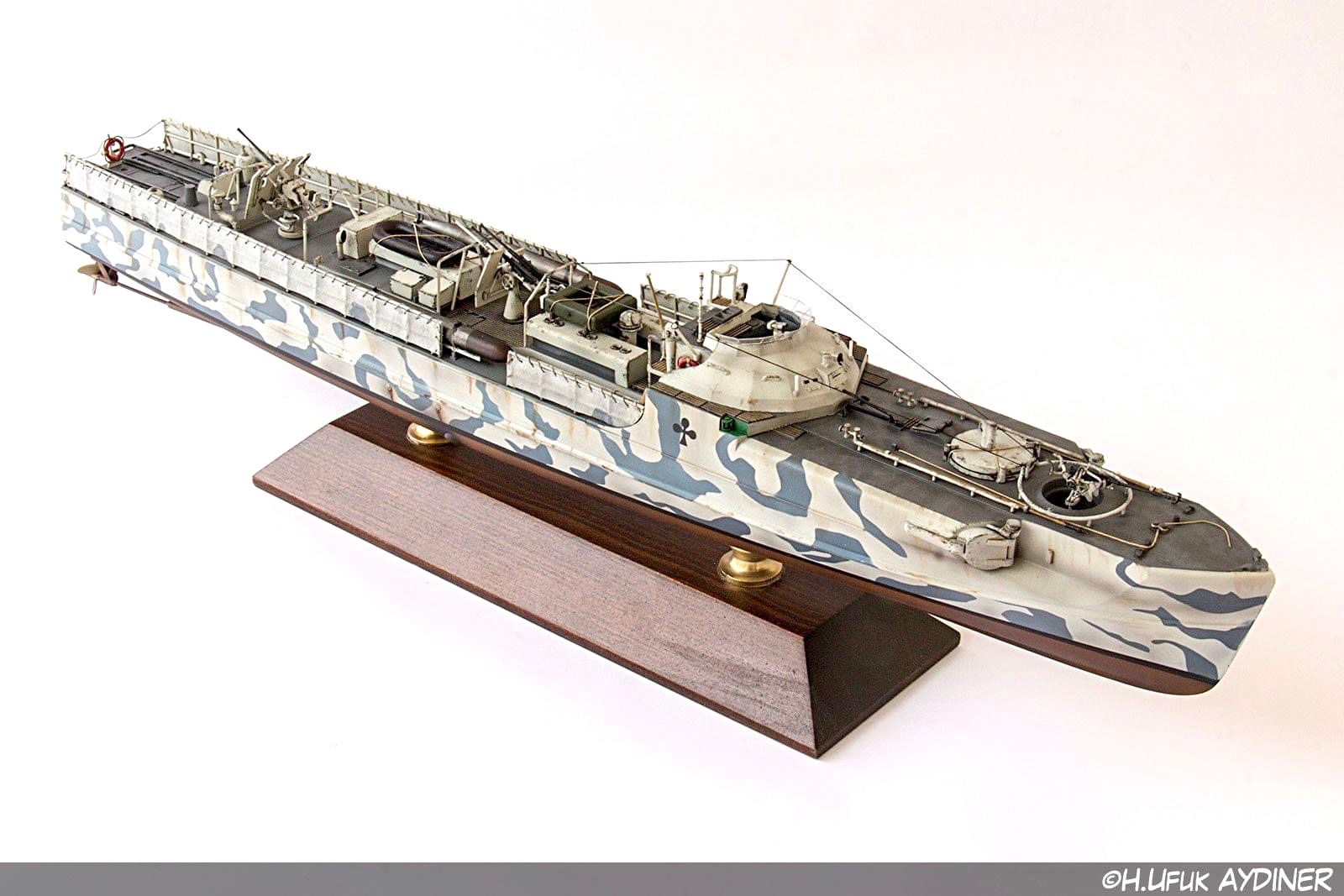 Hello dear modeller,
Ufuk sometimes builds 1/72 scale submarine or warship models. We love it very much and share these models.
Very nice example is with you today.
Congratulations Ufuk..
Erhan...
Revell 1/72 Schnellboote Typ S-100 Klasse "S150"
The S150 during the first days of June, 1944. The gunboat, commanded by Kapitanleutnant Gotz Friedrich von Mirbach, was operating with the 8th flotilla based in Cherbourg. The S150 had been delivered to the S-Bootwaffe en December of 1943 and was part of the S138-S150 series, a derivative of the S100. With a fully loaded 117-ton displacement and a length of 34,94 meters. she was propelled by three 2500-hp Daimler Benz MB 501 A engines which allowed her to easily top 42 knots with a 700-mile radius of action. The main armament had not changed : two 533-mm torpedo launching-tubes with four LUT-type torpedoes. Her auxiliary weapons had been improved over those of the S38 series. A 37-mm Flak M42 cannon was installed at the rear and three 20-mm pieces protected the center and front of the boat. The pilot's bridge had been completely transformed; it was now entirely armored, with a lower, more streamlined profile. This series was equipped with the new FUMB 24 radar, permitting identification of enemy ships or planes within a radius of 10 miles. The crew was made up of 29 men. The S150 was destroyed on June 14, 1944 during the bombing of Le Havre by the Squadron 617 Lancasters of the Bomber Command.
Source Jean-Philippe Dallies-Labourdette, S-Boote German E-Boats in action 1939/1945, Histoire & Collections